The Cruise Terminal as Urban Campus
a more sustainable model for terminal design
Harvard Graduate School of Design. Spring 2016
M.Arch thesis. Belize City.
Advisor: Maryann Thompson (Maryann Thompson Architects, Boston)
In many cruise terminals around the world, the image of the destination is highly controlled to the extent that a physical territory is imposed. The tourist does not move beyond the artificial boundary of the cruise terminal, while the locals are banned from entering. As many cruise destinations are in the Caribbean, the boundary is a deliberate design act to further segregate the rich (the tourists) and the poor (the locals). It is an architecture of isolation, exclusion and segregation. Like our airports and train stations, cruise terminals are designed to be small cities that have little to do with the host country itself. Stores are dominated by international brands, with products that are manufactured in countries miles away. As such, the profit generated within the terminal stays within the companies, while tourists gained very little understanding of the local culture of the host countries. It is physically,
financially, and cultural segregated. Using Belize City as an example, this thesis argues for a
more sustainable model of cruise terminal design
, and proposes to re-think the city's existing cruise terminal as a civic center that engages both the locals and the tourists. In the case of Belize City, it produces a wide range of primary products, but lack skilled labors to grow its manufacturing power. Thus, the terminal engages the city as a vocational school: local products are sold in the markets, manufactured on campus production facilities, by local students who gained training in the process. As the traveler moves through the overlapped spaces of consumption and production, they received a didactic and authentic experience. It is an urban campus for both locals and tourists.
buildings are too dense and too big, blocking the city from
the sea and vice versa; local and tourist circulations are
Winding path knits two circulations that
were originally separate. New Buildings straddle the path; existing
relevant buildings are preserved, each
volume forming a "touchpoint" to the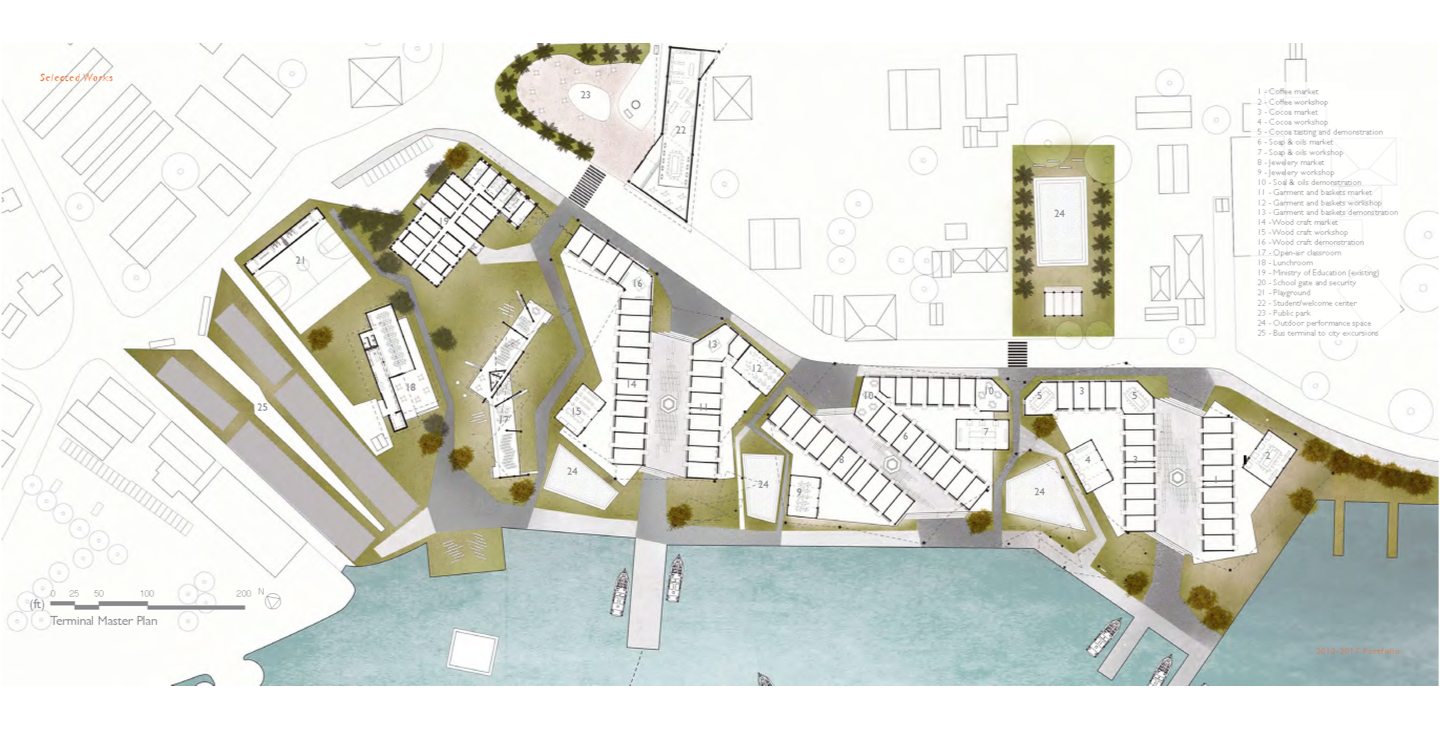 The roof design plays an important role in integrating spaces by creating a "space-in-between". The roof is a mediator as well as a unifier of spaces. In Belize, it is also an important building component socially and climatically. Expansive roofs act like "umbrellas," blocking off the harsh sun, rain and wind, while the building stays porous and open to encourage ventilation. Visually, it blends the terminal with the cityscape. The roof as folded plates sweeps across like a landscape elevated from ground, yet in section it looks like a normal pitched roof, blending with its architectural context.