Problem
It really sucks when your tattoo did not turn out as what you expected.
Many users experience regret
after getting tattoos as a result. Therefore, the challenge was to create a solution that 
aligns their expectations with the artists
. Virtual tattoo preview tools already existed on the market for a while, but why do users still have regrets? What is a new solution that can
give more control
to tattoo lovers in the tattoo design process? 
"Many people experience regret after getting tattoos."
Tools/ 

Sketch, Invision Studio, Adobe XD, Balsamiq, paper, pen​​​​​​​
Role/
 Research, UX/UI Designer, usability testing (solo project)
The Opportunity
Hypothesis: A tool that 
aligns users' expectations with artists
by
letting them be more involved
over the entire design process, will 
build trust
with the artist and
reduce the chance of regret
. 
>     A
customization
feature allows users to modify pre-loaded tattoos (with artist's permission) using simple drag-and-drop. 
>     
 Detailed filters
addressing factors unique in the tattoo world to facilitate artist search.
>     
Direct messages
 with artist over design details for easy collaboration. 
Tailored Recommendations
Whatever your

budget

is, wherever you live, whichever style you favor, we've got you

covered

.
Tattool uses your location to recommend local artists. Browse different artists from different price range and styles. 
Comprehensive filters help to further narrow down choices, helping you find the best-valued 

artists

.
Customize pre-loaded designs
Customise artists designs to your liking with artist's permission.
Pre-loaded designs don't always feel perfect. 
Change the text to something meaningful to you. Rearrange images until it feels perfect. Communicate and collaborate with artist with your

edits

instantly.

Direct Messages with artists
Instantly get a quote and feedback from artists.
Message

artists

directly to collaborate. 
Your quote is given directly by the artist, so no surprises later.
Book with accurate quote, no surprises
Pre-entered details including style, color, size, and placement. Attach reference images. 
These information will be used by artist to give you a realistic and accurate quote, ju

st show up on your booking day and get your favourite tattoo. Everything is taken care of.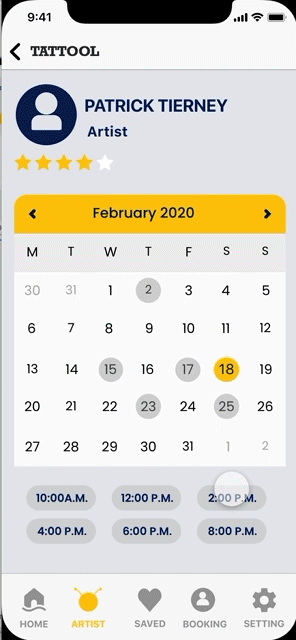 I started the project with research using a few different methods: competitive analysis, online surveys, interviews, and card sorting.
First, I looked into the market and found some inspirations and pain points in similar products.
1.
It is great that users can
upload their tattoos
. There is an opportunity also to integrate Instagram with their profile pages so they can easily share their designs with the artist to collaborate.
2.
Asking users to book an appointment as soon as possible before users are ready might annoy users. 
Users need to breath and look around before making a decision. 
3.
Being able to
browse and book an artist in one flow
is convenient for the users.
4.
Allow first-time users to
explore without having to sign-up or register
, only ask to register when users want to book.
5.
Use
filters
to effectively help users find what they need.
Thus, my app must avoid being pushy, and should allow unregistered users to browse and explore until they want to book. Browsing and booking should be one smooth flow. 
​​​​​​​
I asked the same questions in an online survey before using them on interviews to understand some general trends.
Concerns
>     Style
>     Artist reviews
>     Years of experience
>     Price point
>     Connecting with other tattoo enthusiasts play no or little role in helping users make decisions about their tattoos -

Why?
Needs
>     Search and display tattoo in different styles
>     Recommend artists
>     Show virtual tattoo on their bodies 
>     Interviewees seldom or never regret their tattoos (contrary to data)
Conclusion
Since I included both people who have tattoos and people who don't (and are not ready to get any soon) in order to survey a broader sample, my
survey data might be skewed
. For example, interviewees who have no tattoo may never regret getting a tattoo because they don't have anything to regret. Also, those same interviewees might think that virtual tattoos are useful while experienced tattoo lovers might have a higher standard of how useful virtual tattoo preview is. Through my survey, I learned that I
need a more focused target user group to get more meaningful data
. Thus, I chose to
focus on experienced tattoo lovers for interviews. 
The interview questions for tattoo lovers are the same as the survey questions, but I was able to
adjust my recruitment criteria
to target my audience better through the interviews. For the interviews, I also recruited tattoo artists.
Insights from lovers
>     Tattoo are
reminders
for something worth remembering; they are
symbols
with
personal meanings
.
>     Users will
sacrifice
travel time and price
to get the tattoo they want
.
>     Experienced users have higher standard of whether a tattoo "fits" and think that the
virtual tattoo "does not work well.
"
>     They would like to be more involved in the design process to 
build trust
with artists.
>     Interactions with the artist is essential to
build trust.
>     Some
users want to create their own tattoos
.
Conclusion
Although experienced tattoo lovers don't tend to regret tattoos (most of those who regret were people who were new to tattoo), their knowledge and expectations of the tattoo world is equally applicable to new tattoo seekers. The main theme that ran through the interviews was TRUST. Tattoo lovers, old and new alike, are yearning for a certain amount of trust with the artist to feel comfortable and satisfied.
Insights from artists
>     Artists strive for
quality over quantity
in their business.
>     Artists prefer clients (new or returning) to come in with
expectations
from research that is
realistic
. 
>     Artists think virtual tattoos gives people an
unrealistic expectation
, and might make users regret more.
>.    Artists are
cautious about putting their work online
because they are
afraid of getting copied by others
. 
Conclusion
Artists need a secure way to distribute their art work without losing their intellectual property.
Artists need the users to come in with realistic expectations.
1. SketchBoard: 
From my analysis using data from user interviews, many tattoo lovers like to
 sketch/create their own tattoos because they are very personal
. 
2. Browse & Search Artists: 
From the research, I learned that users have a lot of concerns when they pick tattoo artists including style, price, reviews, years of experience, etc. 
3. Set Artist Profile Private: 
From the artist interview, I learned that m
ost artists have
limited exposure of their art work currently
because they are afraid of putting it up on the internet and getting copied. They need a way for
 to easily toggle between private and public mode, 
allowing artists to reach more new clients.
Before diving into the design process, I drafted out the information architecture, starting with the website, then picked out the essential items to be on the mobile app.
My initial idea is to
organize artist pages and tattoo images under "book
," 
The "get inspired" and the sketch feature will be separate categories. 
Card Sorting Conclusion
>     Users want a
simple interface
. 
>     Users tend to
want items related to themselves to appear at the same place
, even though the items require completely different tasks and interactions. 
>   
 Booking
and
tattoo articles
appeared to be distinct categories in users' minds. 
>     Users expects to be able to
talk to and book artists directly from the artist page
, so access links to booking and messages are added under artist page.  
Sketches and Wireframes (App)
After confirming the idea of the three features, I used hand sketch to quickly test the flow of each feature, staying low-fidelity, as shown below:
Feature 2: Browse and Search Artists
Feature 3: Set Artist Profile Private
Then, I used Balsamiq to create some quick low-fidelity wireframes of each of the three features.
I took the "mobile-first" approach with TATTOOL. The three features deemed essential in mobile was then implemented on the website design as well, with added details thanks to the larger screen real estate.
Sketches and Wireframes (Desktop)
Feature 2: Browse and Search Artists
Feature 3: Set Artist Profile Private
Initialization Process (App Low-Fi)
With some ideas for the 
three core features, I sketched out two different ideas for the initialization steps to guide my target audience to use these features.
Intialization Process (App Mid-Fi)
Initialization Process (Desktop)
For desktop, I opted for a persistent explanation of main categories, so that it creates a safe "blanket" that is always there when the user needs. Coach marks are used progressively as users arrives on relevant pages or click on relevant buttons.
1.
Bottom tabs
for direct navigation between menu items. 
2.
Highly accessible to right thumb
and 
highly visible
"+" sign signals sketchboard location.
3.
Save
 finished sketches directly on the sketchboard page.
Feature 2: Browse and Search Artists
1.
Adjust filters
right on the search result page
2. Filters include
cities, ratings, and price
.
3. Option to
search artist's name directly
(for returning customers)
Feature 3: Set Artist Profile Private
1. Option to set artist page
private
2. Option to
undo / revert
3. User
permission
is needed 
Feature 2: Browse and Search Artists
Feature 3: Set Artist Profile Private
At this point, I opted to do user testing to validate my hypothesis, so that errors can be corrected early on with low cost. I moderated user feedback sessions with

5 tattoo lovers and 1 tattoo artist

. All 5 tattoo lovers have previously gotten tattoos and or will consider getting one in the future. Half of the tests I conducted in-person at their home or workplace, while other half was conducted remotely using GotoMeeting. The test included:
1. A

short briefing

about the app and

assurance

that they cannot do anything "wrong."
2. Describe

general task

, let users use the app while thinking aloud
3. One task at a time, describe

3 specific tasks

, set up each context, and let users use the app while think aloud.
4. Ask any

follow-up questions

and thank users for his/her time.
Classify data into 4 categories - errors, observations, positive quotes, and negative quotes.
The data shows that task 3's mean time was the most accurate representation of the population in the task (lowest standard deviation). Task 3 is the search artist feature, average completion time is 9.5 seconds. The success rate is 100%, although user perceives the task to be quite difficult (3).
Task 1 and 2 are the tasks with the second highest success rates (80%). Although in task 2, users spend much longer time to complete and think this task is difficult (2.2).
Task 4 - share sketch with artist is the task with the lowest success rate and takes the longest time.
Other than testing with metrics, I also did a post-study follow-up session with each participant, understanding their ideas and opinions on the app, as well as suggestions on making it "better" for them. I compared the results of this behavioural study and the attitudinal data I collected from the follow-up session to determine how I should improve the product design. 
Lastly, the customer effort score is obtained by asking participants one question after each task, "How difficult or easy did you find the task?' Then, have them rate it on a 1-7 scale. Users think that task 1,4 and 5 is the easiest to use, while task 2 and 3 are more difficult.
1. Logo did not remind users of tattoo.
>  
Re-design logo

integrating more tattoo lettering and aesthetic.
>  
Use a different name

for the app

to avoid invoking negative vibes with the word "INK."
2. Share button on booking confirmation page
>  
Insert share button immediately after user booking
on the confirmation page.
>  

Place the share icon on each image
in user's folders, so he/she can share with his/her selected artist a specific drawing  or design even without booking.
3. Upload button is confused with share functionality.
> 
Used a
different icon for upload
.
> 
Upload icon is needed 
as one of the main tab menu items
for easy access.
4. Most users were misdirected towards the the hamburger menu.
> 

I
eliminated the hamburger
menu and the "tattoo" tab, and
added
a tab for
"setting."
5. No enthusiasm for the sketching feature, prefer customization.

> 
Instead of a feature for searching inspiration and sketching on the app directly, allow users to
customise pre-loaded designs using drag and drop.
6. Filters for consultation fees or deposit, charge per hour or per piece. User wants to receive a quote immediately after booking.

>  

Added "consultation fee" and "deposit" filters
in the "price" section.
>  
Let
artists provide estimated quotes to users
through messages and notification systems.
> 
As the number of filters increased, I put them on
a separate page from the artists result page
 to not clutter the interface.
7. Folders in the profile page was confusing. Users prefer to see tabs and be able to scroll down to see all images. 
>   
Instead of individual folders, I use tabs, so that when tapped the page

does not reload to a new page

but simply 

change content

. Users can now

browse all their saved sketches, tattoos, and inspirations all in one screen

, causing less confusion.
8. Users want to see how popular an artist is. 
Users feel heavy to tap on "book" immediately from the search result. 
Users want to see work samples right from the search results page.
>  

E
liminated the "book" button
on the search results page. User will only have to decide whether to book after he/she has read through details and work samples of the artist. 
> 

Added scrollable work samples
of the artist on the search results page so it helps users to select and eliminate artists more efficiently (without having to click on each artist to see work samples).
>  
Added a

"popular" tag

on artists' cards in the search results page as well as in the artist page. 
9. Show currently booked artist under current booking and in messages.

> 
To
help remind users whom they just booked
, I added a
"booked" tag next the artist's name
whom user just booked, as well as a tag in the message window with that artist.  This will help
reduce user's cognitive load.
Before the next iteration, the issue of the logo is a big one that ought to be addressed. Although I know that users/ artist do not like the name "inking," I still have little sense of
what users expect in the logo
. I decided to do a preference test to test different logo ideas after the usability test.
In this test, I tested
6 versions
of the splash screen.User showed a slight preference for
version C
. Users feel that logo is more neutral, without determining what kind of tattoo design one will find in the app.
14 participants
participated.
ITERATION TWO - VISUAL DESIGN PRINCIPLES
In the next iteration, I further developed the prototype in alignment with the
Gestalt Principles
and the
Visual Principle
of Design, starting to
add color, branding, and other visual principles
to the app.
ITERATION THREE - ACCESSIBILITY
Reduce Cognitive Overload

FEATURES ARE MODIFIED TO REFLECT INSIGHTS FROM RESEARCH
FEATURE 1 - CUSTOMIZE TATTOOS
FEATURE 2 - BROWSE AND SEARCH ARTISTS
FEATURE 3 - DIRECT COLLABORATION
More accurate and industry-specific filters
There are a lot of nuances in the process of getting a tattoo. My research in this project have uncovered many facts that are normally unknown to people outside the tattoo world. For example, a user told me he'd like to know, on top of the price per hour, if the artist has consultation fee or take deposit. Some other users mentioned that it'll be great if the app can return a quote as soon as they've finished booking. That means the filter is a really important part of this process. The more accurate and detailed the filter is, the more accurate the artist will be able to give a quote back, and the more both parties can anticipate what is going to happen in the actual session. This in turn builds trust. Future in-depth research and testing are needed to really get the filters right. 
Tailor a version to both tattoo lovers and artists
Because of the time constraints in this project and the lack of tattoo artists in my network, I couldn't get enough artists volunteer to test the app. Chatting with one artist in the process also alerted me that tattoo lovers and artists really should have two different interfaces with different menu and tabs. I had to made a compromise to focus on the users only in this round and dropped the artist version right around the testing period. 
However, as Tattool aims to be a tool for users and artists for connection and collaboration, it is essential for it to have both user and artist versions. In the next iteration, I will pay to recruit artists through third-party recruiting services in order to gain artist insights. 
Notifications to users when artist "opens his book"
Many experienced tattoo lovers told me that it would be useful to get notified when a popular artist opens his/her book. This will be an option that artist can toggle in their artist profiles, where will be implemented in the artist version of TATTOOL.
Encouraging more reviews and ratings
TATTOOL's credibility depends on the frequency and accuracy of artist reviews written by users. To make sure users remember to leave a review after a visit with an artist, TATTOOL will push notifications to users to remind them to review the artist after they got a new tattoo. In the next iteration, I will also consider a rewarding interaction where users will be rewarded with the ability to change their profile pictures to different avatars, once they booked a certain number of bookings, or leave a certain number of reviews. Other similar rewarding interactions will also be considered and implemented as needed.
Conduct user testing as soon as possible
From this project, I learned the importance of doing usability test as early as possible, even just with paper and hand sketched prototypes. The earlier I do the test, the earlier I can correct errors and steer the project to the right direction. I waited until after mid-fidelity to do the usability testing this time, and therefore wasted the extra time of building the first mid-fidelity prototype.
Usability test preparations
I encountered several challenges during usability testing. My laptop running out of battery in the middle of testing, participants' phones not being able to screen-record because of the auto-lock function, the quicktime video recording doesn't always work, etc. I overcome these challenges by learning from each failure and making sure it didn't happen the second time, so my testing improved as I went. 
Learn from other designers
I did not have any idea how to make the filters
more
legible and easy to navigate, and kept receiving negative feedbacks about them. I overcome that by looking at dribbble, issuu, and behance, and was able to get some inspiration outside of my little box.