Helping young first-time investors invest and provide financial security to their families
Tools/ 

Sketch, Invision Studio, paper, pen, Angle, Craft, Zeplin
Role

/ UI Design (Solo project)
The brief is to design a

responsive web app

that provides property buyers with information on interested properties. The target audience is represented by persona - Rashida -

who is quite mature in her career and is starting to think about providing financial security to her family by investing.

She is a busy professional and she wants to find the right information quick, so she can make fast decisions. I started with 5 user stories based on Rashida:
● As a user, I want to create a profile containing all my property criteria, so that I am recommended results most relevant to me.
● As a user, I want to be able to search and filter properties, so that I can find good matches based on my needs.
● As a user, I want to be able to save or mark properties I am interested in, so that I can easily revisit them.
● As a user, I want access to as much written and visual information as possible about properties I'm interested in, so that I can make an informed decision.
● As a user, I want to be able to contact the right people if I am interested in viewing a property, so that I schedule a viewing.
Perfect Properties - a r
esponsive web app
that delivers
personalized property preferences
and presents investors with
detailed and relevant information
to help them make the right investment. The
clean, minimalistic interface
targets professionals who are busy and in a hurry, and needs to receive information quickly and accurately. A "save" feature also allows them to
save an interested property and quickly access it once they are logged in
. Designs for phone, ipad, laptop, and desktop HD are created as I anticipate potential users will be using the app under many different contexts, on the bus, in the living room, at work, etc.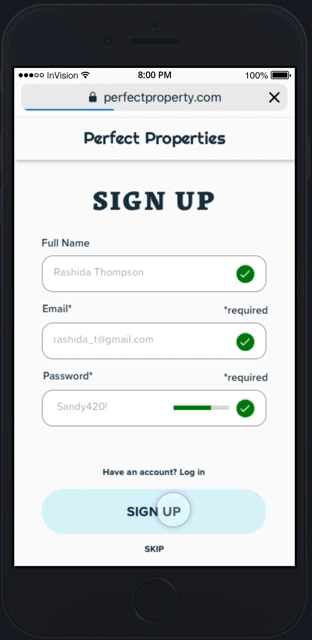 Tailored Recommendations
The Perfect Properties app's smart engine helps you set a detailed profile so you are only shown properties that you are interested in, saving you time and making the property searching process a breeze!
More refined search using filters
You can add additional, real-estate-specific filters to your results and find your perfect match.
Keep an eye on your favourites
Perfect Properties makes it really easy for you to save interested properties and later come back and access them quickly. Keep an eye on the market and make the move when the opportunity comes!
Comprehensive Information
Your destination for all real estate listings. We collect property information with experienced researchers, insights from real estate agents, landlords and other investors. In Perfect Properties, you can expect information to be honest and straightforward, so you can find your dream home fast.
Schedule a viewing right here
View in VR, contact the right person and schedule a viewing right away on Perfect Properties. 
Using the user stories, I sketched out five core features of this app:
Feature 1:

As part of an on-boarding process, prompt user to set her preference for property criteria, so that relevant properties can be recommended by the app. Provide users a way to skip that and allow them to use the app's filter function to search.
Feature 2

:

Provide filters for users to narrow their options further, both for users who have signed up and set a profile, and users who skipped the set up process.
Feature 3:

Provide a quick and simple way to save properties, and to revisit them the next time users sign back in.

Feature 4:

Provide as many visual and written details about each property in an honest and comprehensive way, so that users can make the best decisions quick.
Feature 5:

Provide request info button directly on the property details page, so that users can easily request more information for interested properties.
After a few simple user tests, I learned that users would like more types of filters as well as more kinds of property details, to distinguish the app from other apps on the market. I also added more information for users to explore on the home page. I then set out to craft mid-fidelity wireframes, incorporating these insights. However, before drawing anything in Sketch, first I defined a grid system:
4-columns
60px wide
20px gutters
12px baseline
Feature 1: Set property criteria
Feature 3: Easy access to saved properties
Feature 4: Detailed text and visuals
Feature 5: Request viewing
After the completion of mid-fidelity wireframes, I created two mood boards that

reflect the objectives of the design brief

in two very different directions. 
Mood Board 2: Reliability
Choosing what is best for my users
Even though personally I liked mood board one the best, I picked mood board two to move forward with. The reason is that the mood and style of mood board two matches with the partial brand guide given in the brief better, which are "clean, quick, and smart." Rather than reinventing the style of the app, I chose to follow the partial brand guidelines given by earlier research, and filled in the gaps to create a unique brand. By tweaking the user interface using principles of visual hierarchy and spacing, incorporating UI design patterns into the app, and taking careful consideration for the typography, images, and colors, I created a high-fidelity prototype.
High-Fidelity Wireframes and Prototype
Feature 3: Easy access to saved properties
Feature 4: Detailed text and visuals
Feature 5: Request viewing
Once I have a MVP, I worked on some animations to add more dynamic and delight to the app experience.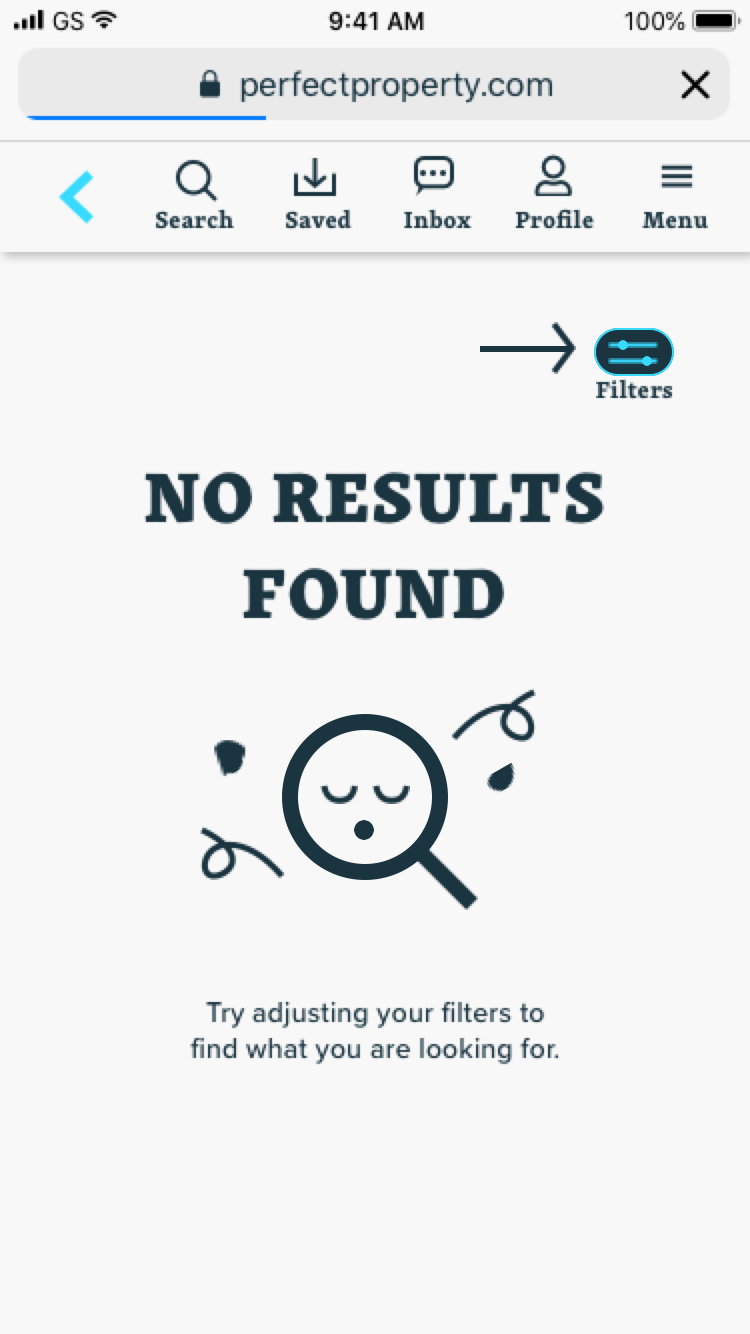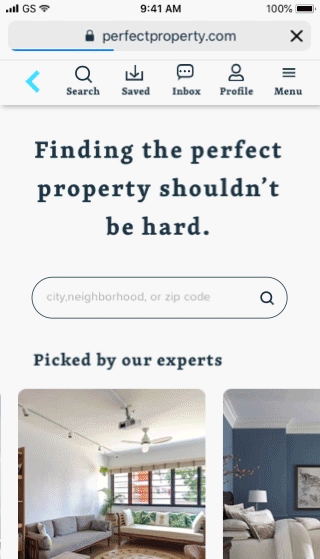 The below galley is a showcase of the final full UI mock-ups in multiple break points.