Independence Blue Cross Virtual Assistant 
One of the biggest difference between designing for conversations and other products is that conversations need a personality. Human assign a personality to a voice or a bot nonetheless, so Instead of leaving it to interpretation, it is best practice to design it before writing or designing any dialogues. A system persona is similar to any personas that designers might do as part of their research of a product. Yet, what system persona does more, is that it represents the brand - its language, tone, word choice - all of these define the brand. Therefore, before designing anything for Independence Blue Cross's Virtual Assistant, a persona was defined.
We started by studying and examining Independence Blue Cross's mission statement, so make sure any personality we came up matches with the goal of their brand. Their mission statement below:
Our mission is to enhance the health and well-being of the people and communities we serve. We strive to be one of the most admired and innovative companies leading the transformation of health care — now and into the future.
From there, we came up with a list of adjectives for this "person".
Professional 
Friendly
Responsive
Community focused
Trusted source
Humble
Knowledgeable
Willing to learn
Inspiring
Furthermore, we defined IVA (Independence Virtual Assistant) as a knowledgable friend. 
IVA is the knowledgeable and trusted friend for Independence Blue Cross. She works hard to listen and understand the questions people have about their healthcare coverage so that she can accurately respond and provide helpful information. 
IVA responds in a professional manner with a caring tone using familiar and clear language that is easy to understand, never using industry jargon that might be confusing. She takes pleasure in assisting others because she knows that any question about healthcare coverage is personal and important.
From then on, we started to write dialogues of what IVA will say in her welcome message:
Hi, I'm IVA the Independence Blue Cross Virtual Assistant.  I'm the newest member of the Independence team and I'm here to help you with your health and well-being.  I'll try my best to answer your questions, but if I can't I'll connect you with a team member who can. 
I can help with things like:
- Checking plan coverage
- Finding a provider
- Reviewing claim status
You can also learn more about me by saying IVA at anytime. How can I help?
Chips:      Am I Covered   |   Find a Provider   |   Claim Status   |   ID Card   |   Password Reset   |   Symptom Checker
Example of Current Welcome Message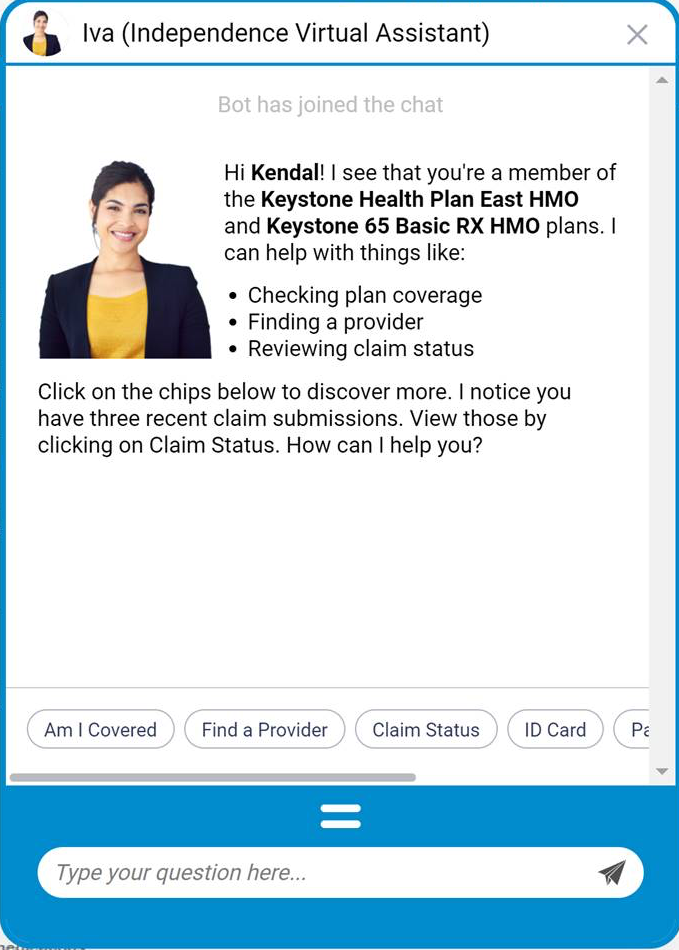 An enabler of Independence Blue Cross's project, the chat widget design was developed during early 2021. The chat widget is customizable to our clients' brand color, including widget length, width, font, chat bubble colors, border, border color, and more. The chat widget design is a huge contributor to this project's success.
There are 5 main flow that we designed for IBC: Am I Covered, Find a Provider, Claim Status, ID Card, and Reset Password. We determined these 5 flows by using a set of data of most inquired topics provided by IBC's customer service department.